Our company will be in winter recess between Dec. 29 and Jan. 5.
Dear international customers, We have a "One-Day Kimono Rental and Dressing Servise" Plan for a reasonable price.

July – August … "yukata" season
Rest of the year … "kimono" season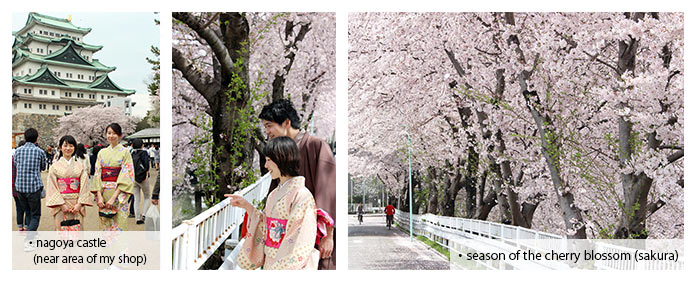 Customer photo collection

Three ways to make a reservation with us:
1. "By Email : @ .
You can make a reservation request online at least one day before visiting us. Please fill out the online form (separated by gender) to select the desired date, time,and number of persons requesting the reservation. We will return you the confirmation accordingly by email.
2. Over the phone:
You can make a reservation request over the phone at least one day before visiting us to inform us the desired date, time, gender,and number of persons requesting the reservation. We have a staff member who can speak and understand a plain and simple English; however,the staff may not be always available. We therefore reccommend that, if circumstances allow for it, please have a Japanese-speaking person call us to make reservations. Thank you for your kind understanding and help in order to ensure smooth communication.

3. Direct visit:
In case of direct visit to our store without reservation, we may ask you to wait for wahile for while if ther are crowded. So we feel it is more convenient for you to make a reservation by email or telephone beforehand.
"Our rental system for Kimono":
You can try on a couple of Kimonos first before you make a decision.
Our staff will select obi belt (kimono sash) that fit your chosen kimono.
We will dress you up in a kimono.
Before you go out for a walk wearing Kimono,you can leave your personal belongings except your valuables like wallet, cellphone, and passport. Please ensure you carry any valuables with you.
Please come back to our store before 18:00.
Application and payment at the front counter:
You will fill out your name and contact information for the hotel or other accommodations where you will be staying.
Your payment can be made either by cash in Japanese yen, or by credit card (JCB,Visa,MasterCard and American Express accepted). Please note that we are unable to accept China Union Pay debit card.
Rental package:
The plan includes: kimono set, obi belt (kimono set), bag, geta(wooden sandals in one set).
At your request, simple hair arrangement(woman only)can be provided.
"Time required for dressing":
It takes 30-40 minutes to dress you in Kimono.
"Terms and Conditions"
Eating and drinking inside the store is prohibited.
We have a staff who can understand plain and simple English,but not so fluently. We seek your kind understanding on this matter.